Child Education Expense Planner Calculator
Plan for your child's bright future with the child education calculator. Calculate the total education expenses against inflation rate and give your child the best education.
What is the age of your child
Child's age at the start of the course
Have you estimated the cost of education?
Education cost at current price
Rate of Inflation
How much amount you have saved
Rate of return
What is your child's dream?
Rate of return
Rate of Inflation
How much amount you have saved
Based on the details provided by you following are the results
Amount you should save monthly Rs. .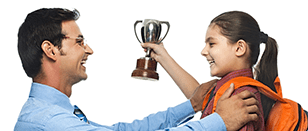 HDFC Life SL YoungStar Plans
Creating a corpus for your child is one of the greatest gifts you can give them. HDFC SL Young Star Super Premium helps you provide for your child's dreams.
Frequently Asked Questions
✅
What is Child Education Planning?
As parents, we want the best for our children and their future which includes their education and other future opportunities. With life being uncertain, increasing inflation and the cost of education in reputed institutions you need to build an adequate financial corpus to meet the needs of your child.
Hence plan your child's education early on and invest in the best child plans to build funds that meet their future financial requirements.
Here are 4 pointers to help you decide:
Be clear about your goals:As parents, we want to give our children the best education and this dream can be achieved only by planning ahead. First, it is important to understand their goals. Once you understand the goals you are aiming for, planning automatically becomes easy with questions like the period of investment, the amount required, and other parameters. This will help you lay a roadmap ahead to meet and understand the future education requirements for your child. 
Understanding Inflation: Inflation has a major impact on the value of investment required. Education only gets more expensive hence it is important to consider future value and amount required to meet the goals set. If you do not calculate your inflation wisely it will cost additional expenses and efforts when required.
Choose your plan carefully:You need to consider good investment options and this decision needs to be done wisely. Your plan will depend on your risk appetite, volatility of the market and tenure. Do your research well before choosing the financial instrument that meets your goals.
Protect your goals:In your absence, your appointee, a person that you choose will invest and will use the sum assured. Make sure the appointee is chosen wisely to protect the goal so your child can fulfil their dreams.
✅
How Does Child Education Planning Calculator Work?
The child education planning calculator is an easy-to-use tool that is easily available online to help you get an estimate of the amount you would need to fulfil your child's future needs. The objective is to help parents strategize and plan better to achieve their financial goals to cover the cost of their child's education in the future. 
This Child Education Planning calculator specifically uses the concept of future value and it then calculates the accumulated corpus required for the child's higher education. The formula used is:
Future Value = Present Value (Expected returns+Rate of interest) *N where 'N' is the duration of the time period of the investment required.
For instance, if the age of your child is 4 years old and he or she would only go to college at 18 years old then we are looking for an investment for a duration of 14 years (18 years  - 4 years ). If the current cost of higher education is at ₹  9 lakh currently with an inflation rate of 6% every year and assuming you are expecting a return of 10% on your current investments then you will need a total corpus of ₹ 20,34,814 to meet the future cost of education for your child. It only takes a few seconds to compute the sum you will need.
The child education planning calculator will also show you the investment that is required each month for the child's higher education which according to the above example amounts to ₹ 5,593. You can use the PMT (payment) function on an excel sheet to calculate the same.
✅
Benefits of using Child Education Planning Calculator
The child education planning calculator is a simple online tool to help you plan for your child's education needs in the future. The calculator is designed by experts based on current market analysis. It has a box and based on a formula, your inputs are required like the current cost of education, rate of inflation, your child's current age and the age at which your child will need the money is taken into consideration. In a few seconds, the future cost will be displayed. If you are able to add your expected returns and any other investments aside, it will give you an accurate sum that will be required.
We have listed below the benefits of using a Child Education Planning Calculator:
In a few easy steps, it gives you the exact amount that you would require for your child's education in the future.
It takes into account all the necessary parameters and specific values to help compute the right corpus requirement.
Once the calculator gives the exact amount, it will help put together a roadmap to accomplish your financial goal.
It takes into account the current age of your child, your savings & expenses and the current value of higher education to generate an accurate amount and give you an idea about the investment required to send your child abroad.
The calculator is also designed to give the best investment plans or financial instruments for your child's future and goals.
It also shows you how much sum is required to save each month to cover the future cost of your child's education. 
You must use the Child Education Planning Calculator to help you lead your goals to success.
✅
How to Use the HDFC Life Child Education Planning Calculator?
Investing in a child education plan can help you meet your child's dream. With the increasing cost of quality education, it is important to plan and invest early to meet the future costs of higher education required for your child. The HDFC Life Child Education Planning Calculator will help you determine and compute the sum required to fulfil your child's educational goals and how much you need to save every month to achieve the financial corpus.
The HDFC Life Child Education Planning Calculator is easy and widely used in India by parents to help them plan for their child's education. With few inputs, the calculator will show the estimated amount that will be required that also accounts for an estimated rate of inflation.
To use the HDFC Life Child Education Planning Calculator you need to follow the following steps:
Step 1: You must enter the present age of your child.
Step 2: You then fill up the current estimated cost of education
Step 3: Choose your goal or the dream profession of your child
Step 4: Enter the expected rate of return from the investment.
Step 5: Account for the rate of inflation you are expecting.
Step 6: If you have already set aside some money for the child's higher education, you must fill up that amount.
Based on your inputs the HDFC Life Child Education Planning Calculator will show you the investment required every month to meet the financial corpus required for your child's higher education.
It will also recommend the best plans for you to invest based on the results that you can explore.
This interactive does not constitute an offer or solicitation for the purchase or sale of any financial instrument or as an official confirmation of any transaction.
HDFC Life Insurance Company Limited or any of its affiliates/ group companies shall not be in any way responsible for any loss or damage that may arise to any person from any inadvertent error in the information reported by the interactive.
The information being provided through this interactive is provided for your assistance/ information only and is not intended to be and must not alone be taken as the basis for an investment decision ("Information"). The recipient/ user assume the entire risk of any use made of this Information. Each recipient /user of this interactive should make such investigation as it deems necessary to arrive at an independent decision while making an investment and should consult his own advisors to determine the merits and risks of such investment. The investment discussed or views expressed may not be suitable for all investors. HDFC and its affiliates, group companies, sales staff, financial consultants, officers, directors, and employees may have potential conflict of interest with respect to any recommendation, related information or opinions.
This Information should not be reproduced or redistributed or passed on directly or indirectly in any form to any other person or published, copied, in whole or in part, for any purpose. This Information is not directed or intended for distribution to, or use by, any person or entity who is a citizen or resident of or located in any locality, state, country or other jurisdiction, where such distribution, publication, availability or use would be contrary to law, regulation or which would subject HDFC and its affiliates/ group companies to any registration or licensing requirements within such jurisdiction. The distribution of this Information in certain jurisdictions may be restricted by law, and persons in whose possession this Information comes, should inform themselves about and observe, any such restrictions. The Information given in this interactive is as of the date of this report and there can be no assurance that future results or events will be consistent with this Information. This Information is subject to change without any prior notice. HDFC reserves the right to make modifications and alterations to this statement as may be required from time to time. However, HDFC is under no obligation to update or keep the Information current.
Neither HDFC nor any of its affiliates, group companies, directors, employees, sales staff, financial consultants or representatives shall be liable for any damages whether direct, indirect, special or consequential including health, physical well being, lost revenue or lost profits that may arise from or in connection with the use of the Information. Past performance is not necessarily a guide to future performance.
HOW CAN WE HELP YOU
Contact Our Relationship Manager
Contact Our Relationship Manager
Mon-Sat 9:30 A.M to 6:30 P.M IST
Locate A Branch Near You
There has been changes in branch operation timings due to COVID 19
Stay updated with HDFC Life
Get HDFC Life updates in your mailbox