It's never too early to plan for your retirement, start now
Explore HDFC Life Guaranteed Pension Plan - Pension Scheme in India
Features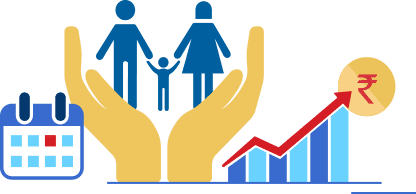 Following are the features of HDFC Life Guaranteed Pension Plan – Pension Scheme in India:

Guaranteed Additions of 3% of sum assured get accrued for each completed policy year

A lump sum Vesting Addition payable at vesting

Premium payment term ranging from 5 to 12 years

Policy term ranging from 8 to 30 years

This pension & retirement plan in India can be taken only on a single life basis
Benefits
Benefits Available Under HDFC Life Guaranteed Pension Plan - Pension Scheme in India
Limited premium paying term with assured benefit on death or at vesting

On vesting, purchase an annuity and enjoy lifetime income- post retirement

Get a lump sum vesting benefit which is a sum of sum assured on vesting, Guaranteed Additions as well as Vesting Addition

Assured Death Benefit of total premiums paid to date accumulated at a guaranteed rate of 6% per annum compounded annually

Tax Benefits may be available as per prevailing tax laws. You are requested to consult your tax advisor.
Eligibility
ENTRY
AGE

MATURITY
(vesting)

All age mentioned above are age last birthday.
For more details on risk factors, terms and conditions, please read the Product Brochure carefully and/or consult Financial Consultant before taking a decision.
Downloads
Product Brochure Download

HDFC Life Click 2 Retire
Your retired life is for you to enjoy, not for you to worry about taxes. With HDFC Life Click 2 Retire you can plan your retirement for just Rs 2000 per month and avail tax benefits.
HOW CAN WE HELP YOU
Contact Our Relationship Manager
Contact Our Relationship Manager
Mon-Sat 9:30 A.M to 6:30 P.M IST
Locate A Branch Near You
There has been changes in branch operation timings due to COVID 19
Stay updated with HDFC Life
Get HDFC Life updates in your mailbox